Technology

Structure of CHUWASTAR
Water-cooled structure
The main body of furnace is fully covered with water jacket system.
Therefore even plastic, which produce a lot of heat, can be incinerated easily.
By water-cooled structure, CHUWASTAR's durability is outstanding.
Made by steel board
The main body of furnace and the cyclone dust collector are made by steel board, SS-400.
Therefore if damaged, it can be easily repaired.
Made by Aluminum processing.
Cyclone and exhaust duct are made by steel board, and those are covered with alloy of iron and aluminum.
By this process, those parts have excellent durability against acid and heat.
Fireproof material
Fire proof material is used for hearth, an injection door and the ash outlet door.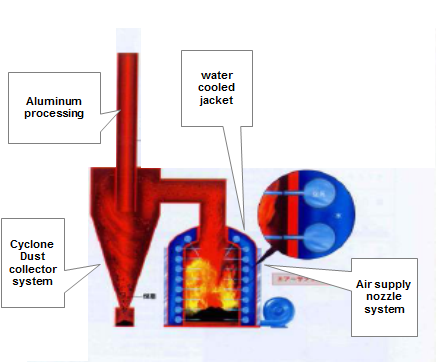 Forced air supply method
The air is supplied compulsory to furnace by high pressure turbofan.
The necessary oxygen is supplied with stability, and it enable the complete and smokeless incineration.
Air supply Nozzle system
A lot of air supply nozzles located on efficient positions ensure the enough oxygen.
It enables complete combustion and smokeless incineration.
Water-cooled pipe for prevention of backfire
A water-cooled pipe is established for prevention of backfire in furnace.
This device ensures safety, and anyone can use the incinerator without special skill.
Ejector device
It is a device to keep minus number pressure inside the furnace and increase the efficiency of dust collection.
Merits of CHUWASTAR
Smokeless
CHUWASTAR has outstanding performance in smokeless incineration.
Possible for mixed combustion
You can incinerate plastic, rubber, paper and wood together in smokeless by CHUWASTAR's furnace.
Dust collector system
To prevent dust scattering, CHUWASTAR's furnace is equipped with cyclone collector.
Low cost
Basically, CHUWASTAR works without diesel oil, so you can maintain at small cost.
Excellent durability
CHUWASTAR is the incinerator which has excellent durability.
Heat recycle system
CHUWASTAR's furnace has ecology design which can use the warm water.
Compact design
CHUWASTAR is the furnace of a compact design.
Chuwastar's technology : Why water cooled structure ?
Incinerator is classified into 2 types, Brick or Castable Build type & Water cooled type,
In the method of heat-proof
1) Brick Build type furnace: Built by brick and heat proof material(=Castable)
2) Water cooled furnace: Fully covered with Water Jacket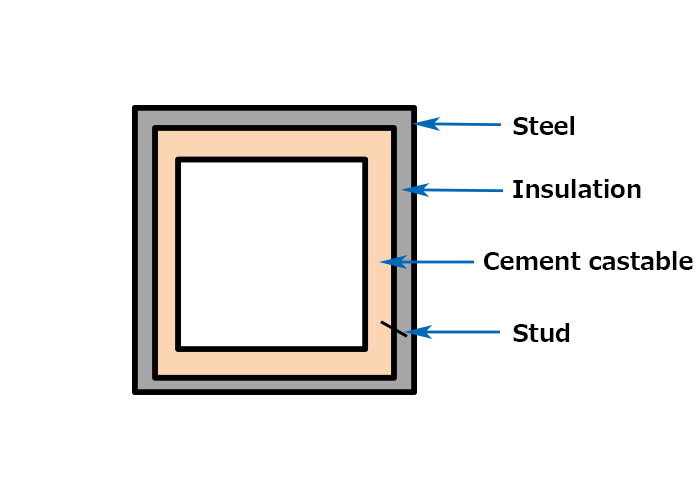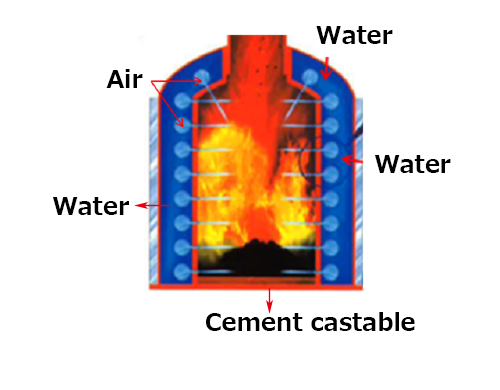 ■Merit & Demerit of Bric build furnace & Water cooled furnace
1) Brick build furnace
2) Water cooled furnace
Material of heat proof
Brick /Castable
Water
Material of heat proof
Brick /Castable
Water
Smokeless incineration
Difficult
Possible
Heat accumulate inside the furnace, the gasification of waste is too rapidly. It cause short of oxygen, and may emit black smoke.
Water jacket absorbs the heat, and can control the speed of gasification, it enable the smokeless incineration.
If incinerate……
Plastic
Difficult
Possible
Rubber
Black smoke emit
Smokeless
Moisture waste
Possible
Difficult
Spray can
May be damaged by explosion of spray can
Durable for explosion of spray can
Durability
Easy to be damaged by heat
Excellent
Maintenance
Periodical repair needed
No need periodical repair
Operation
Delicate for shock, need some technique to operate
Easy : No special skill needed
Safety
Surface of furnace is too hot, risk of burn
No risk of burn
Shape
Design should be restricted
Design is flexible
Technique
Traditional technique
Innovative technique
Chuwastar's technology : Why smokeless ?
3Ts for complete incineration
Temperature
Time
Turbulence
Those 3Ts are critical elements for incineration, if those 3Ts are appropriate,
smokeless incineration can be done.
CHUWASTAR meets these 3 conditions and also pursues compact and durable design.
CHUWASTAR's Air supply system into furnace
For complete & smokeless incineration, it is necessary to supply
enough air into furnace continuously.
Therefore, CHUWASTAR equip,
High pressure turbo fan
High pressure turbo fan supplies the necessary air into furnace
continuously, and make "Turbulence" inside furnace.
Air supply system (Air pipe & Air nozzle)
CHUWASTAR has the system to make the furnace filled with air.
This system is one of the important techniques of smokeless incineration.
For smokeless incineration, the waste's gasification is necessary, and the gas
need to be contacted with oxygen sufficiently.
If the gas leak outside furnace without contacting with oxygen, it may cause
smoke and smell.
To supply the plenty of air into furnace, a lot of nozzles are located on the
wall inside furnace, and the nozzles jet the air into furnace.
Surplus air ratio
For complete combustion, need to supply more than "theoretical air volume"
"Surplus air ratio", is the ratio of actual air volume to theoretical
air volume.
A=mAO
A=Actual air volume,
AO =theoretical air volume
m = Surplus air ratio
m=2~2.5 in CHUWASTAR
By those air supply system such as air nozzle & high pressure turbo fan, we succeed to provide
2 - 2.5 times as much as the theoretical air volume, and complete incineration can be done.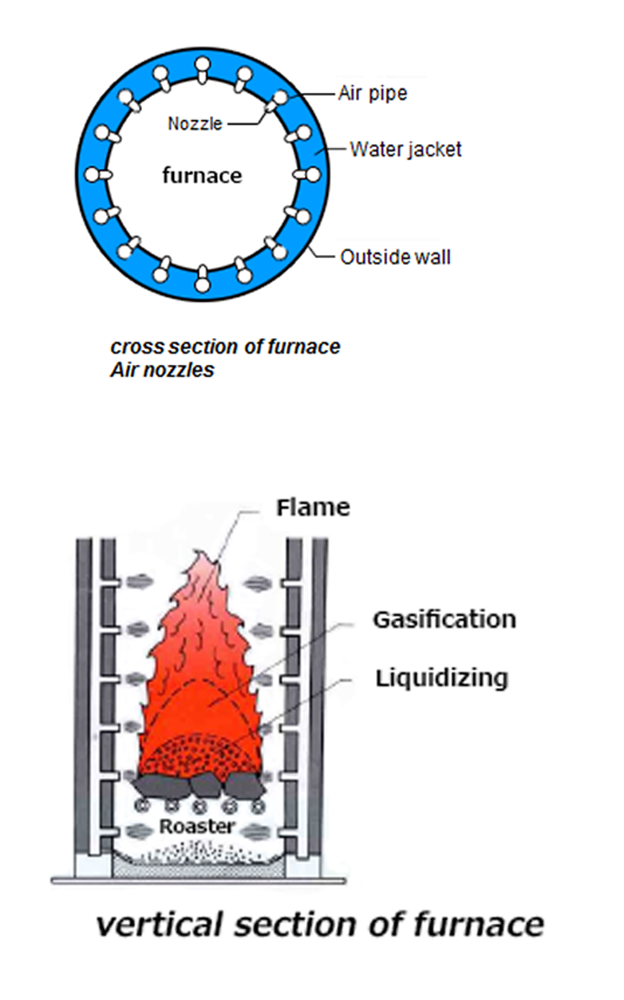 Remaining time inside furnace
"Time" is also important factor for smokeless combustion
For complete combustion, unburnt gas should be contacted with air as long as possible.
Therefore, we designed the furnace as long as possible at the reasonable cost.